UPDATE ON DAVID MAYS HOMECOMING WITH JESUS.
A recording of the David Mays Memorial service can be found at Eaglechurch.com in the messages archive.
Here is a direct link to the audio download.
Your internet speed will determine how quickly this audio file will stream.If your internet speeds are slower just wait and it will eventually play. You can also right click and save-as.
Missions Resources by David Mays
To see my notes on the book, click on the link.
To purchase, contact David Mays at info@davidmays.org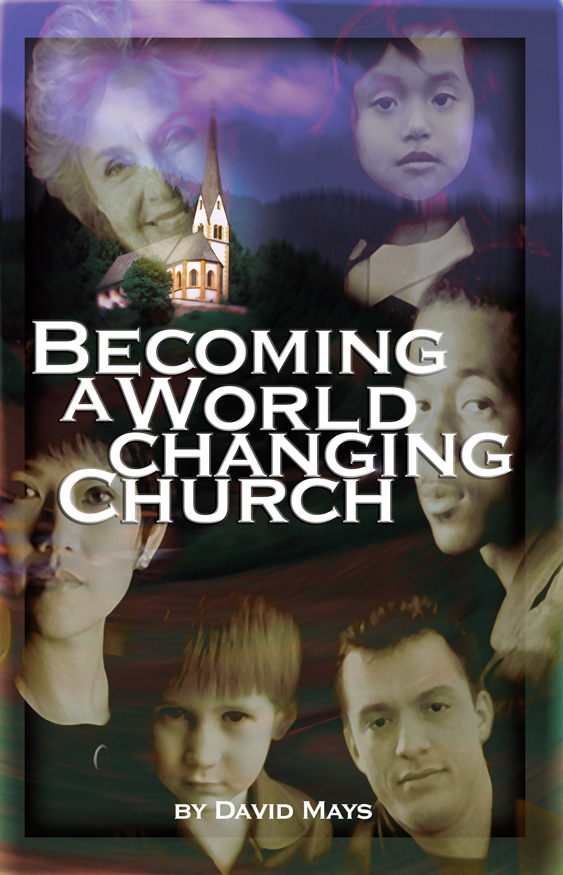 David Mays ACMC, 2006, 32 pp., ISBN 1-930924-31-3
God wants your church to make an impact in the world - not just your world, but the greater world - for His glory in all the earth. This little booklet takes a fresh approach to making the Great Commission the central organizing principle of a church.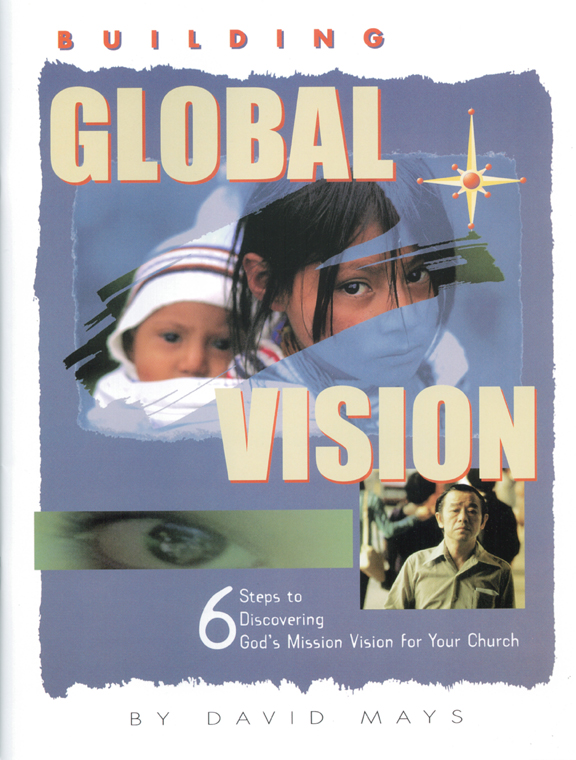 Building Global Vision 6 Steps to Discovering God's Mission Vision for Your Church
David Mays ACMC, 2005, 73 pp., ISBN 1-930924-28-3
Building Global Vision is a 6-session study guide to help church leaders prepare themselves to receive from God a clear mental picture (vision) of something He wants to accomplish in the world through their church. Each session includes a personal Bible Study to help participants see how God has guided his servants in the past.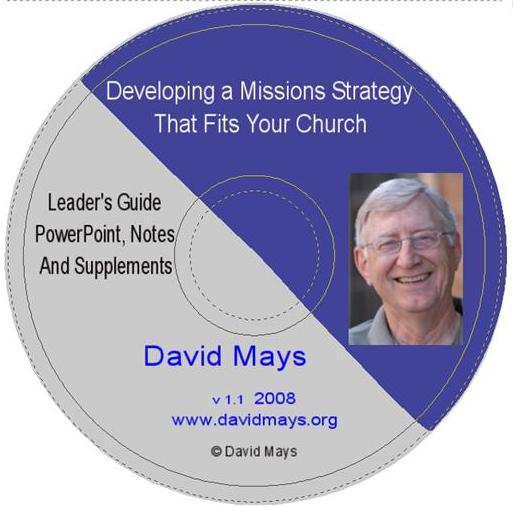 David Mays David Mays, 2009
To see a PowerPoint description click here.
This CD is more than a book: it is a full-orbed resource. A leader's guide (which is a book in itself) and PowerPoint slides are included for teaching a workshop or facilitating a consultation. A participant workbook is included for participants who attend a workshop or participate on a strategy development team. There are multiple documents containing Scripture verses, missions definitions, budgeting and funding grids, survey forms, and sample church strategies. A strategy template, individual worksheets, and numerous supplemental articles and resources are also included.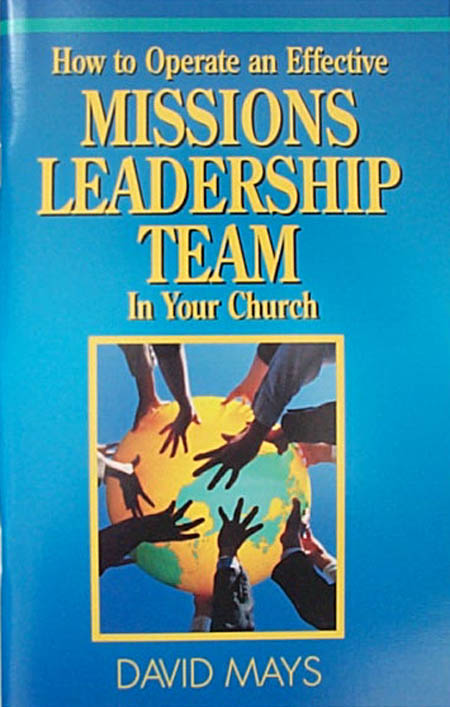 How To Operate An Effective Missions Leadership Team in Your Church
David Mays 2007, 58 pp.,
The book is a fictional story of how Tim Winter helps his missions committee become effective and productive. Each chapter provides a brief description of how another principle is discovered and implemented. The meat of the book is in the bullet lists, resource lists, and application worksheets that accompany the story.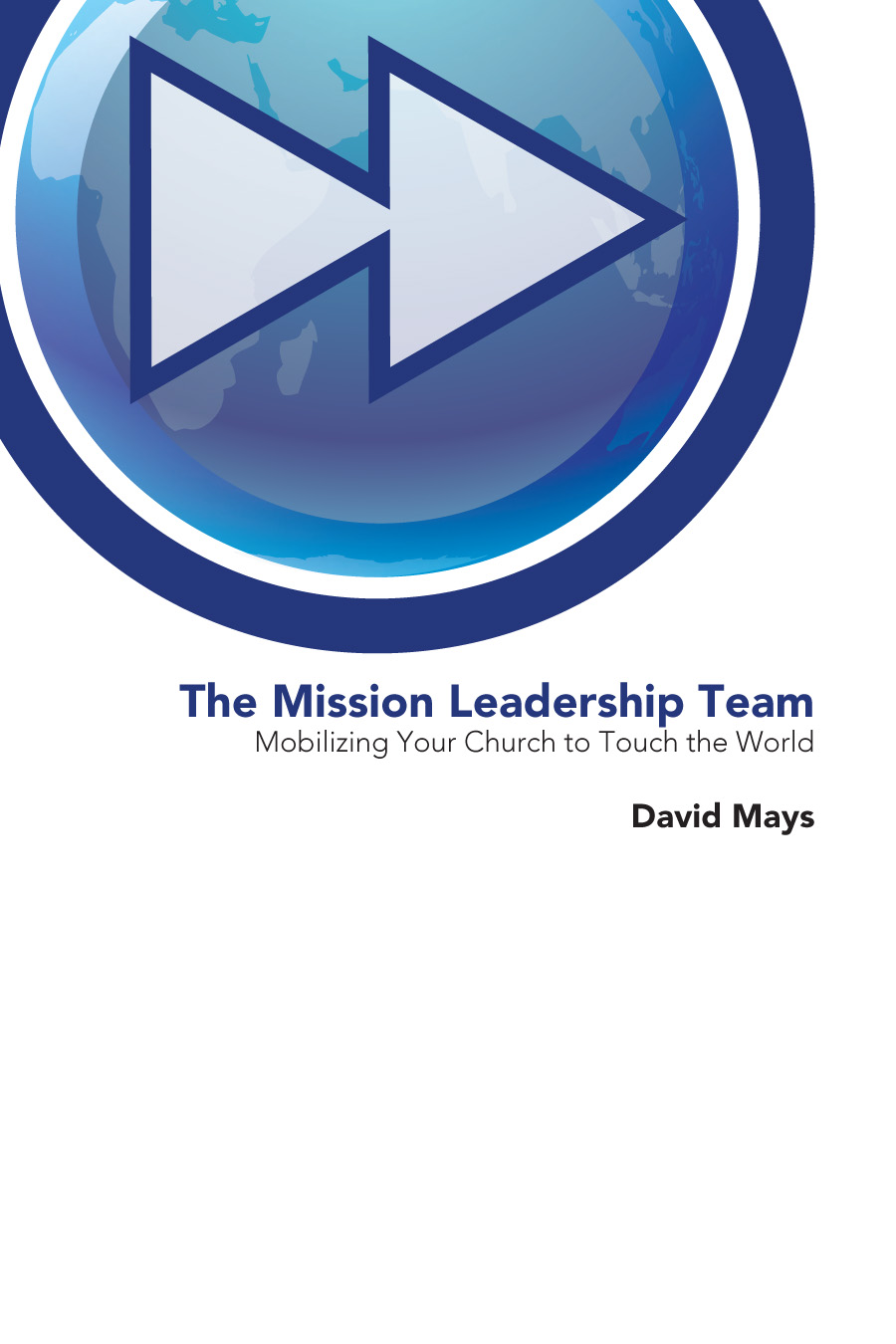 The Mission Leadership Team Mobilizing Your Church to Touch the World
David Mays 2010, 131 pp.,
Who leads the mission ministry in your church? A pastor? A leadership team? Multiple teams? Are they organized and equipped to lead with wisdom and excellence? Your mission leaders can find a good overview of the job, practical suggestions, additional helps, a good list of resource, and space to work in this book.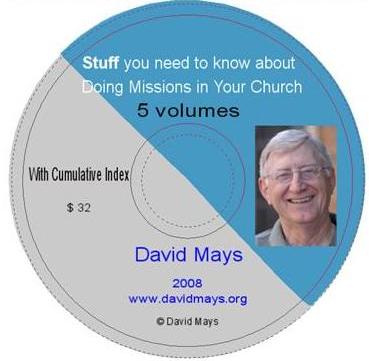 Stuff you need to know about Doing Missions in Your Church - A Handbook of Lists
David Mays 2008, 5-volumes, about 400 pp.
Four volumes, more than 300 pages, of an encyclopedia of all the things you wanted to know about doing missions but didn't know where to find. It is a compilation of one-page concepts, lists, outlines, forms, samples, and resources covering everything from Becoming a World Christian to Missions Web Sites
Missions leaders and missions pastors have called it the best resource available to missions committees. More than 6000 copies of earlier volumes have been distributed. "Stuff" is available only on CD in Word.
Purchase or see more information.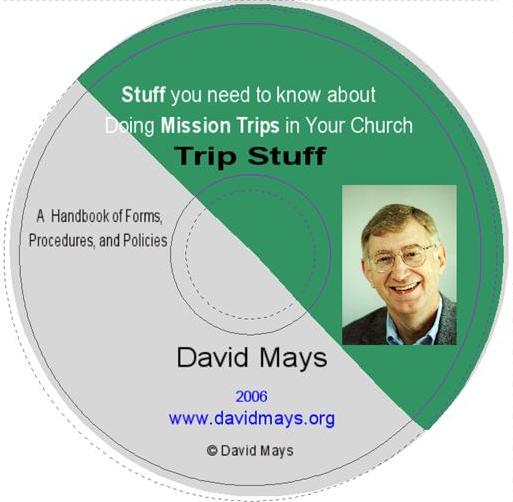 TRIP STUFF Stuff you need to know about Doing Mission Trips in Your Church - A Handbook of Useful Documents
David Mays 2006, 230 documents on CD
Trip Stuff is an accumulation of more than 230 documents put together or used by local church leaders. It includes samples, forms, guidelines, procedures, policies, tips and hints - everything from Application Forms to Standards of Excellence, from Tax Information to Dealing with Jet Lag. Trip Stuff is available on CD in Microsoft Word. Purchase at www.davidmays.org.